Beautiful and healthy hair begins with natural cleansing and moisturizing. Our 100% natural organic hair oils nourish, seal in moisture, and keep hair  shiny and hydrated. Oils can help decrease split ends, encourage growth and restore life to dull hair.
Revitalizing Hair Oil $19.80

Disclaimer: The information on this website has been compiled from published sources in the web and is provided solely for informational purposes and as an educational guide, and is in no way intended to diagnose, treat, cure, or prevent any disease or health condition. Although every effort has been taken to ensure that information published on this site is correct and up to date, Made With Nature cannot guarantee the accuracy of all information presented, and accepts no liability in respect of any omission or error. Always consult a qualified, licensed health professional if you have any doubt or medical concern.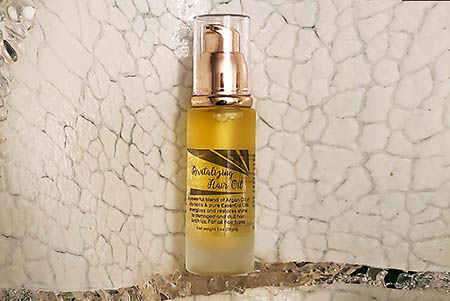 No Parabens, no SLS, no artificial colors, no synthetic fragrances
& no harsh detergents.
We only use natural, organic and fresh ingredients, and we handcraft our products in small batches, so that freshness and high quality are assured at all times.
KALII NATURALS
THE RIGHT CHOICE FOR OUR BODY AND OUR EARTH
For more about how to use our products please click here.
A blend of amazing Argan oil of Morocco, to encourage strong hair and growth.

Product Characteristics
This organic hair blend is based on amazing organic Argan Oil, which is naturally rich in antioxidants and essential fatty acids that promote circulation as they nourish and protect hair. Argan is a deep conditioning oil, great for all hair types, including damaged and colored hair. It helps tame frizz and promotes shine and softer, more manageable hair.
The essential fatty acids contained in Argan, Jojoba and Coconut Oils stimulate growth and strengthen hair, helping prevent breakage and decreasing shedding.
Our 100% natural and organic oil blend promotes shine, softness, and manageability.

How to:
For a conditioning treatment: Warm 10 to 15 drops of oil. Gently massage your scalp for about 5 minutes. Then spread the oil to the ends. Leave on for at least 15 minutes more. Wash with lukewarm water and style hair.
For an intensive deep conditioning treatment: Warm 20 to 30 drops of oil. Gently massage your scalp for about 5 minutes. Wrap oiled hair in a warm towel for 30 minutes or leave overnight. Then wash and style as usual.
For a boost to your conditioner and to give extra shine: Put a few drops in the palm of your hand, rub palms together. Then comb your fingers thoroughly through the length of dry hair and work the oil to the ends to help treat split ends. Then comb and style your hair as usual.


No Parabens
No Sulfates
No Artificial Colors
No Synthetic Fragrances
No Phthalates
No Silicones
Please note that our products are HANDCRAFTED, that's why we cannot guarantee their exact weight, color or shape. We definitely do guarantee the excellent quality of our products.
Main Ingredients
Argan Oil is rich in vitamin E, or tocopherol, a fat-soluble vitamin that serves as a potent antioxidant to reduce the damaging effects of free radicals. It has anti-inflammatory properties, helps heal wounds and improves the complexion of skin. Argan oil may also support repair and maintenance of healthy skin when applied directly to your skin, thus reducing visual signs of aging because it increases skin elasticity and hydration, especially in mature skin.

Jojoba Oil is a deeply hydrating oil. Because Jojoba oil is very similar to our own skin oils, it immediately penetrates skin and smoothes it easily, helping to promote healthy, glowing skin without clogging pores or leaving a greasy residue. It is lighter than other face oils and easily absorbed into skin. It deeply penetrates to soothe and soften while providing an excellent moisturizing effect and adding a healthy glow. It is also full of nutrients like Vitamin E and B, as well as antioxidants and minerals like chromium, copper, and zinc, which all nourish and protect skin, reducing superficial facial lines. Our organic, cold-pressed, jojoba oil has the highest level of antioxidants and nutrients.

Coconut Oil Naturally antibacterial and antifungal, virgin, unrefined coconut oil is an excellent moisturizer that penetrates hair better than other oils. And moreover, it smells delicious!

Vitamin E or Tocopherol is a powerful antioxidant that can be very helpful for a range of skin disorders, as well as skin repair. Applied topically it may help nourish and protect your skin from damage caused by free radicals, support healthy collagen formation, may be effective at reducing UV damage in skin and even maintain skin tone.
Ingredients: Argan Oil, Jojoba Oil, Sweet Almond Oil, Coconut Oil, Peppermint, Lemon, Cedarwood and Lavender Essential Oils and Vitamin E.
© This site and all its content are subject to copyright


To purchase any of our excellent products please call 1-305-244-5272