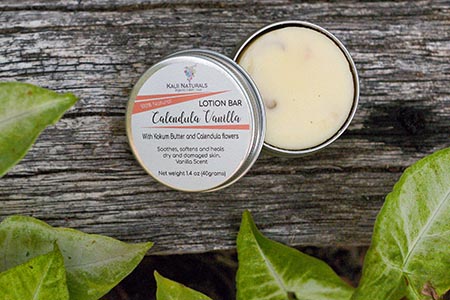 Calendula Vanilla Lotion Bar $8.95
Softens and heals dry and damaged skin. Excellent for hands and feet. Vanilla Scented.
Product Characteristics
Soothes, softens and heals dry and damaged skin. Excellent for hands and feet.
Vanilla Scented
The moisturizing benefits of Lotion Bars last far longer than liquid lotions and they are non-greasy from the moment they are applied. And - as all our products- they are 100% natural and don't have artificial additives.
A 100% natural Lotion Bar, With Kokum Butter and Calendula flowers
Great for traveling
Great for dry, cracked, tired skin.
One bar can last for months with daily use
Packaged in a reusable metal box, specially thought to be tossed in your handbag, desk, hand luggage or exercise bag. Keep it tightly closed to preserve bar clean and fresh.
No Parabens
No Sulfates
No Artificial Colors
No Synthetic Fragrances
No Phthalates
No Silicones
Main Ingredients
Sweet Almond Oil Thanks to the Vitamin E, Sweet Almond Oil keeps your skin cells healthy, protects your skin from UV radiation damage, and helps your skin look smooth, soft, and free of fine lines. The fatty acids help your skin retain moisture thus healing chapped and irritated skin. Plus it has moisturizing, nourishing properties and is easily absorbed, leaving the skin soft and smooth without a greasy feeling.
Cocoa Butter has healing and softening properties that will make your skin healthy and smooth. Cocoa butter is also a natural emollient, a moisturizer, packed with short-chain fatty acids, amino acids, vitamins and minerals, that can deeply nourish skin. And also, it smells delicious!
Beeswax, (Cera alba), attracts water molecules and helps skin stay hydrated over time. It will not clog pores while trapping moisture, thus reducing dryness and keeping toxins out. Beeswax is also rich in Vitamin A, that promotes the regeneration of cells, and that's why it will help heal damaged skin and protect it. And as a nice plus, beeswax reduces inflammation, softens skin, and has antioxidant properties.
All Ingredients: Kokum Butter, Cocoa Butter, Beeswax, Sweet Almond Oil infused with Calendula Flowers, Vanilla Essential Oil & Natural Calendula flowers.

No Parabens, no SLS, no artificial colors, no synthetic fragrances
& no harsh detergents.
We only use natural, organic and fresh ingredients, and we handcraft our products in small batches, so that freshness and high quality are assured at all times.
KALII NATURALS
THE RIGHT CHOICE FOR OUR BODY AND OUR EARTH
For more about how to use our products please click here.
Disclaimer: The information on this website has been compiled from published sources in the web and is provided solely for informational purposes and as an educational guide, and is in no way intended to diagnose, treat, cure, or prevent any disease or health condition. Although every effort has been taken to ensure that information published on this site is correct and up to date, Made With Nature cannot guarantee the accuracy of all information presented, and accepts no liability in respect of any omission or error. Always consult a qualified, licensed health professional if you have any doubt or medical concern.
Several important things to take into account if you want to enjoy your Lotion Bars:
Maintain it away from heat sources.
Keep it always in its box, to preserve it clean.
In winter, you will need a little bit more of warmth to melt it. In summer, beware of leaving it in the car, or even in your bag, if it is under the sun!
How To Use Lotion Bars
Lotion Bars are perfect for busy people, who don't want to waste time massaging and rubbing till the lotion absorbs!
Using a Lotion Bar is easy, although in winter butters get harder and will require more effort to rub in, but it's totally worth it! And since Lotion Bars don't contain water they do not dry out your skin, or require preservatives to stop spoilage.

Directions
1. Remove the lotion bar from the tin
2. Just take it into your hands and warm it with your body heat. This will melt a small portion in the surface of the bar
3. You can then either rub the lotion onto your body, or get enough in your hands to put lotion bar down and use hands to cover skin of elbows, knees, heels, hands or anywhere else your skin feels dry. It will feel a little sticky at first, but the skin will quickly absorb all of the product
4. Don't try to use it as a liquid lotion. You only need a small quantity, because, remember: there is no water in it, so no need to rub it once and again on your skin to dry the water out
FAQs
A Lotion Bar is a solid lotion, a cream. It may resemble a bar of soap, but is actually a cream and can be used anywhere on the body. The Lotion Bar will stay solid when kept at room temperature or lower but when applied to skin, body heat will slightly melt the bar. Our Lotion Bars are made of 100% all natural ingredients including butters and oils like Cocoa butter, Shea butter, Kokum Butter, Jojoba Oil, Avocado Oil, Sweet Almond Oil, plus Beeswax and pure and natural Essential Oils like Lavender, Orange, Clary Sage, Patchouli, Clove Bud, etc.    
Our products last as long as six months! It's a lot considering there are no preservatives other than vitamin E in our products. All natural liquid products last only 2 weeks, but since our products are solid they last longer! Cool, ey?
For more important FAQ's about our Lotion Bars, please click here

PEOPLE WHO VIEWED THIS ITEM ALSO LIKED
© This site and all its content are subject to copyright

To purchase any of our excellent products please call 1-305-244-52