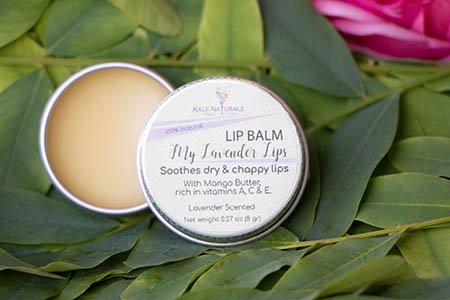 My Lavender Lips Wow!! $4.95
An extraordinarily healing Lip Balm, relieves and moisturizes. With Raw Honey and Cocoa Powder. So nice and tasty that you"ll want to eat it too! (And actually you can)
Natural Honey Scent
Product Characteristics
A rich lip balm that naturally balances skin oils, so that lips feel healthy and lustrous. It gets easily absorbed by lips, making them soft and velvety, moisturized and hydrated. For perfectly great looking lips in all seasons!

How to: Apply a small quantity when needed, rubbing gently on lips.
Keep away from heat.

Great for traveling
Great for dry, damaged, lips.
Lasts for months with daily use
Packaged in a reusable metal box, especially thought to be tossed in your handbag, desk, hand luggage or exercise bag.
Keep tightly closed to preserve it clean.
No Parabens
No Sulfates
No Artificial Colors
No Synthetic Fragrances
No Phthalates
No Silicones

Main Ingredients
Jojoba Seed Oil improves skin health and feeling. Jojoba is rich in vitamins and minerals that nourish the skin, including vitamins C, B, E, copper, and zinc. It also adds shine and life to dry, chappy lips.
Babassu Oil is a non-greasy oil and an excellent skin emollient, both for oily and dry skin types. It balances natural oils of the skin so that it can make greasy skin appear healthy and lustrous and dry skin look smooth and healthy.It gets easily absorbed by the skin, making it soft and velvety, moisturized and hydrated. Perfect to renew lips in all seasons!
Beeswax, (Cera alba) , attracts water molecules and helps skin stay hydrated over time. It will not clog pores while trapping moisture, thus reducing dryness and keeping toxins out. Beeswax is also rich in Vitamin A, that promotes the regeneration of cells, and that's why it will help heal damaged skin and protect it. And as a nice plus, beeswax reduces inflammation, softens skin, and has antioxidant properties.
All Ingredients: Jojoba Oil, Bees wax, Babassu Oil, Castor Oil, Cocoa Butter, Virgin Olive Oil, Lavender Essential Oil and Vitamin E.
We only use natural, organic and fresh ingredients, and we handcraft our products in small batches, so that freshness and high quality are assured at all times.
KALII NATURALS
THE RIGHT CHOICE FOR OUR BODY AND OUR EARTH
For more about how to use our products please click here.
Disclaimer: The information on this website has been compiled from published sources in the web and is provided solely for informational purposes and as an educational guide, and is in no way intended to diagnose, treat, cure, or prevent any disease or health condition. Although every effort has been taken to ensure that information published on this site is correct and up to date, Made With Nature cannot guarantee the accuracy of all information presented, and accepts no liability in respect of any omission or error. Always consult a qualified, licensed health professional if you have any doubt or medical concern.
PEOPLE WHO VIEWED THIS ITEM ALSO LIKED

© This site and all its content are subject to copyright

To purchase any of our excellent products please call 1-305-244-52