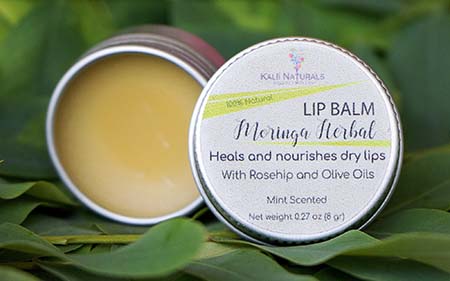 Moringa Herbal Lip Balm $3.95
A real blessing for chapped, dry lips! Mint Scent.
Product Characteristics
An extraordinarily healing Lip Balm, enriched with Almond oil infused with Moringa leaf powder and other nourishing herbals. A real blessing for chapped, dry lips!
Mint Scent.


Great for traveling
Great for dry, damaged, skin
Lasts for months with daily use
Packaged in a reusable metal box, specially thought to be tossed in your handbag, desk, hand luggage or exercise bag. Keep it tightly closed to preserve it clean.
No Parabens
No Sulfates
No Artificial Colors
No Synthetic Fragrances
No Phthalates
No Silicones
Main Ingredients
Shea Butter is an "intense" moisturizer, that has plenty of benefits for skin. One of the most popular and well known body butters, Shea Butter is high in vitamins A, E and F, provides Collagen (to assist in prevention of skin aging & wrinkles), and contains essential and beneficial fatty acids. Another fact about Shea Butter is that, like other butters, forms a natural barrier on the skin to keep moisture in.
Moringa Leaves Powder contains all the essential amino acids needed by the body. Amino acids are the building blocks of proteins which are needed to grow, repair and maintain cells. Moringa is loaded with nutrients like calcium, vitamin A, B, C, D, E; minerals like copper, iron, zinc, magnesium, silica and manganese. Moringa has moisturizing and nourishing properties and an excellent cleansing ability. It possess anti-ageing properties and the capacity of restoring the vitality and youthful complexion of the skin.
Rosehip Oil is also known as rosehip seed oil. It's derived from the rosa canina rose bush, which is grown mostly in Chile. It is loaded with skin-nourishing vitamins and essential fatty acids so It hydrates, moisturizes, helps exfoliate and helps brightens skin. It helps boost collagen formation, helps reduce inflammation and protect against sun damage.
Vitamin E oil's potential benefits on skin derive from two key features: its antioxidant properties, which could fight inflammation and slow the effects of free radicals, and its moisturizing properties. Some benefits of vitamin E oil include: Skin moisturizing, healing wounds, reducing skin itching, fighting eczema and psoriasis, preventing lines and wrinkles and minimizing scars.
All Ingredients: Bees wax, Almond Oil - Infused with Moringa Powder, Calendula, Rosehip, St John's Wort & Sea Buckthorn- Olive Oil, Shea Butter, Castor Oil, Rosehip Oil, Peppermint & Eucaliptus Essential Oils and Vitamin E.
We only use natural, organic and fresh ingredients, and we handcraft our products in small batches, so that freshness and high quality are assured at all times.
KALII NATURALS
THE RIGHT CHOICE FOR OUR BODY AND OUR EARTH
For more about how to use our products please click here.
Disclaimer: The information on this website has been compiled from published sources in the web and is provided solely for informational purposes and as an educational guide, and is in no way intended to diagnose, treat, cure, or prevent any disease or health condition. Although every effort has been taken to ensure that information published on this site is correct and up to date, Made With Nature cannot guarantee the accuracy of all information presented, and accepts no liability in respect of any omission or error. Always consult a qualified, licensed health professional if you have any doubt or medical concern.
PEOPLE WHO VIEWED THIS ITEM ALSO LIKED

© This site and all its content are subject to copyright

To purchase any of our excellent products please call 1-305-244-52