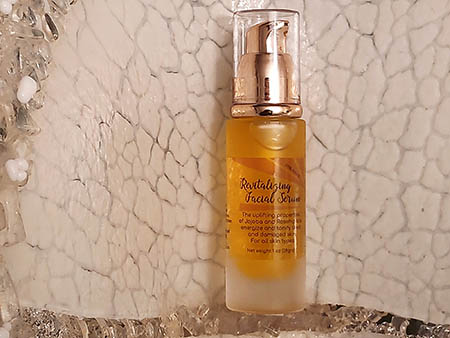 Revitalizing Facial Serum $21.80

This oil blend is formulated to tone up and restore allure.
Product Characteristics
This serum which blends 100% pure, unrefined and cold pressed Rosehip, Argan, and Jojoba oils, infused in herbals specific for facial care, help revitalize dull, tired or mature skin, improving elasticity and soothing skin irritations.

Our 100% natural, cold pressed, nourishing oils blend, are antioxidant and help fight free radicals, moisturizing and balancing your skin by regulating the production of natural skin oil (sebum) .

Rosehips Oil contains vitamins, antioxidants and essential fatty acids that are known to correct dark spots and hydrate dry, itchy skin, reducing scars and fine lines penetrates dry skin to restore moisture helps calm inflamed skin improves skin texture improves the appearance of fine lines that accompany dry or mature skin.
Argan oil's anti-inflammatory properties help calm irritated skin, blemishes and acne, giving the skin a firmer, smoother complexion. Recommended for Normal to Dry Skin.
Soothing Calendula flowers and other natural herbs known to improve skin quality and enhance the skin's appearance have been infused in rich Jojoba oil to achieve a great natural moisturizer and to boost dry and damaged skin.

How to: Using your clean fingertips, massage a few drops on freshly cleansed, damp face, using small circular strokes in an upward, outward motion until the oil has been absorbed. The gentle massage will give your skin a circulation boost, and the penetrating serum will nourish and give a silky look to your face. You only need about 2 or 3 drops of oil per treatment. If your skin is extra dry a couple more drops may be helpful. Just don't overdo it.
No Parabens
No Sulfates
No Artificial Colors
No Synthetic Fragrances
No Phthalates
No Silicones

Main Ingredients
Argan Oil. is rich in vitamin E, or tocopherol, a fat-soluble vitamin that serves as a potent antioxidant to reduce the damaging effects of free radicals. It has anti-inflammatory properties, helps heal wounds and improves the complexion of skin. Argan oil may also support repair and maintenance of healthy skin when applied directly to your skin, thus reducing visual signs of aging because it increases skin elasticity and hydration, especially in mature skin.

Rosehip Oil is also known as Rosehip seed oil. It's derived from the Rosa Canina rose bush, which is grown mostly in Chile. It is loaded with skin-nourishing vitamins and essential fatty acids so it hydrates, moisturizes, helps exfoliate and helps brightens skin. It helps boost collagen formation, helps reduce inflammation and even protects against sun damage.
Facial Herbs A carefully selected combination of herbals is used to infuse Jojoba Oil, specially targeted at helping fight wrinkles and revitalize skin tone.
Vitamin E or Tocopherol is a powerful antioxidant that can be very helpful for a range of skin disorders, as well as skin repair. Applied topically it may help nourish and protect your skin from damage caused by free radicals, support healthy collagen formation, may be effective at reducing UV damage in skin and even maintain skin tone.
Ingredients: Jojoba Oil (infused with Rosehip, Calendula flowers, Chamomile flowers and Green Tea), Rosehip Oil, Argan Oil and Vitamin E.
We only use natural, organic and fresh ingredients, and we handcraft our products in small batches, so that freshness and high quality are assured at all times.
KALII NATURALS
THE RIGHT CHOICE FOR OUR BODY AND OUR EARTH
For more about how to use our products please click here.
Disclaimer: The information on this website has been compiled from published sources in the web and is provided solely for informational purposes and as an educational guide, and is in no way intended to diagnose, treat, cure, or prevent any disease or health condition. Although every effort has been taken to ensure that information published on this site is correct and up to date, Made With Nature cannot guarantee the accuracy of all information presented, and accepts no liability in respect of any omission or error. Always consult a qualified, licensed health professional if you have any doubt or medical concern.
PEOPLE WHO VIEWED THIS ITEM ALSO LIKED

© This site and all its content are subject to copyright

To purchase any of our excellent products please call 1-305-244-52