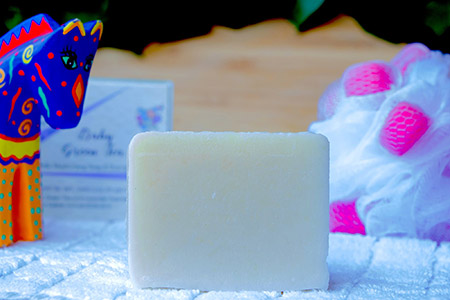 Baby Green Tea Soap
& Shampoo Bar $8.95
Extra Gentle and Moisturizing. For Sensitive Skin.
Product Characteristics
An All in One Amazing Soap & Shampoo Bar
Coconut Free
This super gentle soap is formulated especially for sensitive, baby skins, that will enjoy the luxurious lather and rich lavender scent of this bar, and the silky feeling it leaves in the skin.
With Olive Oil, Green Tea and Lavender Essential Oil.
Coconut Free
For babies and sensitive skins
Lavender Scented
WARNING: This is a 100% natural soap bar. Therefore, it is NOT Tear Free. Please keep away from eyes. If nevertheless shampoo comes in touch with eyes, don't panic! Nothing dangerous will happen to your baby's eyes. Just wash gently with warm water, and give her a kiss.
For more details about tear-free shampoos and their components, see our FAQ page.
No Parabens
No Sulfates
No Artificial Colors
No Synthetic Fragrances
No Phthalates
No Silicones
Main Ingredients
Olive Oil, rich with multiple vitamins that help lock the keratin in your hair, it is one of the best things you can use in order to make your hair grow stronger and shinier. Olive oil provides all the mixture your scalp needs to combat dandruff, to put an end to your split ends, to soften your hair, to manage your unruly locks and to help your hair grow stronger.
Green Tea contains a powerful antioxidant called epigallocatechin gallate (EGCG) that fights DNA damage and may prevents skin cancer. The active ingredients in green tea have great potential for fighting skin disorders like psoriasis, dandruff, inflammation, reducing oiliness and fighting acne and blackheads. It is also a potent anti-aging ingredient that combats signs of aging when ingested or applied topically and a natural skin toner and hair growth stimulator. In short, many good reasons to use it!
Lavender Essential Oil or Lavendula Officinalis, is extracted from flowering tops of the lavender plant, and has anti-inflammatory, anti-bacterial, anti fungal, and antiseptic properties. It helps promote hair growth, is antimicrobial, fights lice, has a calming effect and a ravishing fragrance. It relieves tension and is good for general relaxation.
All Ingredients: Olive Oil, Water, Babassu Seed Oil, Palm Oil, Avocado Oil, Castor Seed Oil, Shea Butter, Mango Seed Butter, Organic Green Tea, Natural White Clay and Lavender Essential Oil.
KALII NATURALS
THE RIGHT CHOICE FOR OUR BODY AND OUR EARTH
For more about how to use our products please click here.
Disclaimer: The information on this website has been compiled from published sources in the web and is provided solely for informational purposes and as an educational guide, and is in no way intended to diagnose, treat, cure, or prevent any disease or health condition. Although every effort has been taken to ensure that information published on this site is correct and up to date, Made With Nature cannot guarantee the accuracy of all information presented, and accepts no liability in respect of any omission or error. Always consult a qualified, licensed health professional if you have any doubt or medical concern.
Please note that our products are HANDCRAFTED, that's why we cannot guarantee their exact weight, color or shape. We definitely do guarantee the excellent quality of our products.
© This site and all its content are subject to copyright

To purchase any of our excellent products please call 1-305-244-52