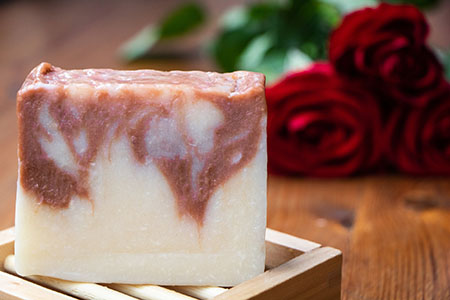 Marshmallow Jojoba
Shampoo Bar $10.95
A Super Hydrating, Soothing Shampoo Bar.
Product Characteristics
With Marshmallow Root Powder and Jojoba Oil, this super efficient shampoo bar will restore moisture and add a silky feeling to your hair.
Gentle Aroma of Roses.
Great for curly, dry or difficult hair
No Parabens
No Sulfates
No Artificial Colors
No Synthetic Fragrances
No Phthalates
No Silicones
Please note that our products are HANDCRAFTED, that's why we cannot guarantee their exact weight, color or shape. We definitely do guarantee the excellent quality of our products.
Main Ingredients
Olive Oil, rich with multiple vitamins that help lock the keratin in your hair, it is one of the best things you can use in order to make your hair grow stronger and shinier. Olive oil provides all the mixture your scalp needs to combat dandruff, to put an end to your split ends, to soften your hair, to manage your unruly locks and to help your hair grow stronger.
Marshmallow is an African plant with amazing healing and moisturizing benefits. The entire plant, and particularly the root is rich in a mucilage which helps to soften the hair naturally. Marshmallow will almost melt the tangles away removing all your knots with ease.
Jojoba Seed Oil promotes hair growth and improves the health of the scalp and hair. Jojoba is rich in vitamins and minerals that nourish hair, including vitamins C, B, E, copper, and zinc. Because it strengthens hair, it is also thought that jojoba oil can prevent hair loss and promote hair thickness. It also adds shine to your hair, helps maintaining hair color, and both treats oily scalp and is excellent for dry hair.
Ingredients: Saponified Coconut Oil, Sweet Almond Oil, Mango Seed Butter, Olive Oil, Beeswax, Castor Seed Oil, Shea Butter, Grape Seed Oil, Jojoba Seed Oil, Oatmeal, Natural White Clay, and Essential Oils of Rosewood, Ylang Ylang, Clary Sage, Geranium and Rosemary.
Disclaimer: The information on this website has been compiled from published sources in the web and is provided solely for informational purposes and as an educational guide, and is in no way intended to diagnose, treat, cure, or prevent any disease or health condition. Although every effort has been taken to ensure that information published on this site is correct and up to date, Made With Nature cannot guarantee the accuracy of all information presented, and accepts no liability in respect of any omission or error. Always consult a qualified, licensed health professional if you have any doubt or medical concern.
FAQs
  You'll be surprised, but you'll notice that most of our products contain Coconut oil and this is why our shampoos and soaps foam so well! It's an all natural ingredient that makes magic! The coconut-free products contain other natural ingredients like Babassu oil that replaces very well the coconut oil benefits.  
  Saponification is a process that involves conversion of fat or oil into soap and alcohol by the action of heat in the presence of aqueous alkali (e.g. NaOH or lye).
In all ready soaps, as in Made With Nature soaps, the chemical reaction of making soap, called saponification, is complete and finished. When the soap departs our premises, the lye and oil molecules have completely combined and chemically changed into soap and glycerine. This means that the lye is used up in the saponification process to turn oil into soap.
There is no lye present in the finished bars of soap or shampoo. While all real soap must be made with lye, no lye remains in the finished product after the saponification process has ended.

Some of our products are vegan and some are not. The animal-derived products we may use are goat milk, yogurt, honey, eggs and beeswax. Our soaps contain no animal fats. Always look for the symbol on our packaging and on the product pages of our website to find vegan products.
© This site and all its content are subject to copyright

To purchase any of our excellent products please call 1-305-244-52