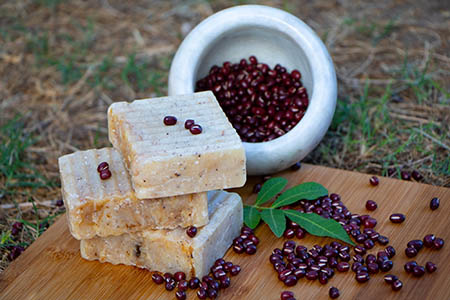 Adzuki Adzuki Body & Facial
Soap Bar $9.95
Gentle Body & Facial Scrub. Exfoliates without drying.
Product Characteristics
100% natural products, made with fresh, pure ingredients, with no GMOs, no chemicals, no artificial components, no harmful parabens. Just 100% natural, organic ingredients that will improve your skin and hair like no other product you knew up to now.
With organic Coconut Milk, Adzuki and Hibiscus Powders, this soap will gently exfoliate your skin, leaving it soft, moisturized and rejuvenated. For Normal to dry skin.
Citric Scented.
No Parabens
No Sulfates
No Artificial Colors
No Synthetic Fragrances
No Phthalates
No Silicones
Please note that our products are HANDCRAFTED, that's why we cannot guarantee their exact weight, color or shape. We definitely do guarantee the excellent quality of our products.
Main Ingredients
Coconut Cream provides an excellent moisturizing effect in dry skin conditions like eczema, dermatitis and psoriasis and makes the skin soft and supple and also prevents premature skin ageing. Coconut milk is a rich source of manganese, phosphorus, iron and magnesium. For hair, Coconut Cream promotes hair growth, restores dry, damaged hair and is a natural hair detangler and conditioner. Coconut cream adds creaminess to handcrafted soap.
Powdered Adzuki Beans are the perfect exfoliator for gently buffing away dull, dry skin and giving your face a fresh, healthy glow. Adzuki beans contain a natural foaming agent called saponin that helps cleanse pores by absorbing excess oils, removing dead skin, unclogging pores and promoting circulation.
Hibiscus Powder contains most powerful antioxidants and anti-aging plant actives, which firm and lift skin. Due to the slightly exfoliating effect of the organic acids found in the plant, hibiscus helps to speed up cell turnover, which results in a more even looking skin tone.
Kaolin Clay is one of the mildest and purest of all natural clays. It can be used on dry or sensitive skin and scalp, and is often used in fine face powders. Gentle and rich in silica, kaolin clay calms inflammation and helps moisturize dry, brittle hair. This clay gently cleanses hair and scalp, without excessive drying. It stimulates blood circulation and gently exfoliates the scalp while cleansing. Kaolin clay strengthens hair, improves elasticity, and helps repair damaged hair. It soothes the scalp, helps treat dandruff, and encourages hair growth.
Rosemary Essential Oil contains iron, calcium, and phytonutrients which make of it a powerful stress reliever, a booster of immunity It can also protect your skin from damage caused by the sun and free radicals. Since Rosemary Oil has natural antiseptic properties and a disinfectant for our skin and hair. It reduces skin inflammation and redness associated to eczema, psoriasis and dermatitis and has a skin tightening and toning effect thanks to its astringent properties! It is also an effective natural deodorant which cleanses skin pores
Ingredients: Saponified Coconut Oil, Sunflower Seed Oil, Avocado Oil, Palm Oil, Olive Oil, Castor Seed Oil, Cocoa Seed Butter, Adzuki Beans, Kaolin Clay, and Essential Oils of Bergamot, Lavender, Rosemary & Tea Tree.
Disclaimer: The information on this website has been compiled from published sources in the web and is provided solely for informational purposes and as an educational guide, and is in no way intended to diagnose, treat, cure, or prevent any disease or health condition. Although every effort has been taken to ensure that information published on this site is correct and up to date, Made With Nature cannot guarantee the accuracy of all information presented, and accepts no liability in respect of any omission or error. Always consult a qualified, licensed health professional if you have any doubt or medical concern.
© This site and all its content are subject to copyright

To purchase any of our excellent products please call 1-305-244-52